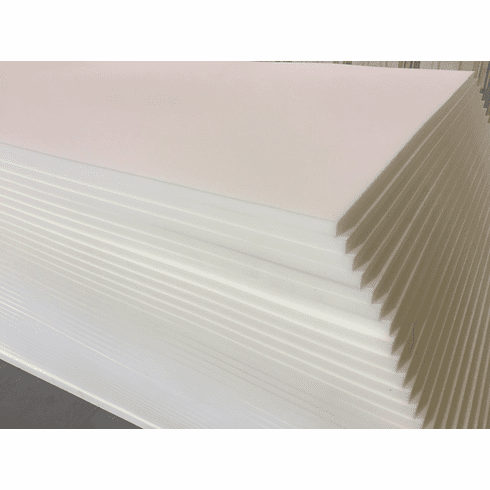 1" X 54" X 54" PREMIUM 1/2 SHEET 47 lb. HD Rail Foam
Product Description
!!! NOTE: THIS FOAM IS 54" WIDE X 54" LONG !!!
SOLD PER SHEET - PRICE REDUCED!!!!!!
High Density 1" Thick X 54" Long X 54" Wide
47 lb. Compression Foam with a 1.3 Density.
This is our premium luxury poker table rail foam.
The PERFECT choice for Poker Table Rail Foam.
Features:
1" Thick X 54" Wide X 54" Long.
Perfect For 48" Round Tables!
Color: White
2.0 Density
50lb. Compression Foam.
100% Recovery Rate.
PLEASE NOTE: Due to the large size of foam once it is rolled up to be shipped, we HAVE to vacuum suck all foam rubber sheets down. The Foam will NOT be it's original size once you open your package....PLEASE allow 2-3 days for the foam to "recover" to it's full width.


1" FOAM PACKAGES NEED TO BE OPENED IMMEDIATELY ONCE YOU RECEIVE THE PACKAGE. DO NOT LET THE FOAM SIT UNOPENED FOR MORE THAN 1 WEEK!
Q&A
Ask a question about
1" X 54" X 54" PREMIUM 1/2 SHEET 47 lb. HD Rail Foam
.
Click here